Arizona Car Registration: Get Your Vehicle on the Road (Guide)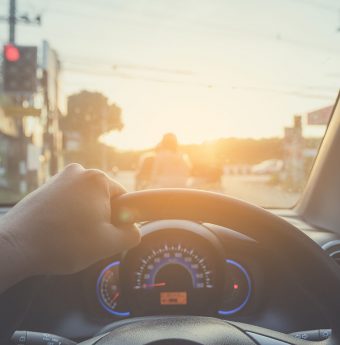 Getting your driver's license is a big step in having more freedom to do as you, please. Completing an Arizona car registration is the next logical step, letting you go about your day without the trouble of catching a ride with others!
Registering your vehicle is done at an AZ DOR/MVD office.
You can get an AZ restricted use permit letting you drive a new or used vehicle up to 3 days before you're required to register. Visit ServiceArizona, complete the application, pay the $1 fee, and print the page to get this restricted use permit – but don't wait too long to finish the registration!
The registration process includes a:
Title application or lease agreement
Identification and proof of residency
Insurance and applicable inspections
Paying applicable fees and taxes
Ready to get behind your own set of wheels? Keep reading to learn the process.
The Step-by-Step to Registering a Vehicle in Arizona
You will register your vehicle after its leased, purchased, inherited, or gifted. Registration is quick-and-easy when you have the necessary documents prepared.
What you'll need before going to the DMV includes:
Proof of Arizona auto insurance
An emissions compliance form (Phoenix/Tucson area if applicable)
You will register and title the vehicle when at the DMV.
Vehicle Registration (via Private Sales)
The following details what's required when buying or selling a vehicle through private parties.
Transfer the title between parties
Go to your local AZ MVD
File the Title and Registration Application (96-0236)
Provide proofs:

Identification
Residency
Vehicle ownership
Auto Insurance
Emissions (if applicable)

Pay the registration fees/taxes
Your registration is good for 1, 2, or 5 years.
You can also use this opportunity to apply for temporary registration mostly following the same process without all the necessary documents. This comes in handy if you're still gathering them. You'll pay a $15 fee for this 90-day temporary registration until you're ready.
Dealer Leased or Bought Registrations
Dealerships send your title and tag documents to the AZ MVD. However, you may need to process the paperwork if it's a smaller dealership or at your leisure. You will follow the same procedure as private registration, bringing any documents they provide.
New Arizona Drivers and Vehicles
Are you new to the state of Arizona? You will register your vehicle upon residency. This largely follows the same procedure as private registration. You will get the required items like insurance, emissions testing, and proof of ID/residency – then turn in your out-of-state plates for AZ plates.
Arizona Car Registration Fees and Taxes
The Arizona registration fees include:
Registration: $8
Title: $4
Air Quality Research: $1.50
You also pay a vehicle license tax (VLT):
Tax based on each $100 of the vehicle's value
Calculated at 60% of the MSRP
Lowers to 16.25% after renewal
Your VLT fees typically include:
New vehicles: $2.80 per $100/value
Used vehicles: $2.89 per $100/value
Fuel vehicles: $4 per $100/value
Registering for 2 or 5 years requires you to pay the full amount of the taxes.
Need a Registration Renewal?
Renewal is quick and easy much like the initial process.
Read our AZ Registration Renewal Guide if you need to complete this process.