How to Change Your Personal Information at a Texas DMV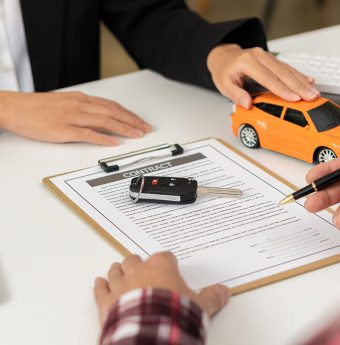 Did you change your name legally recently? If so, you should apply within 30 days of changing your name at the Texas Department of Public Safety and the Department of Motor Vehicles for a driver's license and to register to vote. The application process must be done in person at the DMV location. In addition to notifying the DMV and DPS, you must also notify the Social Security Administration as early as possible.
Applying for a Texas Driver License/ID for a Name Change
After changing your name legally and obtaining the document with your name change, you can visit the nearest Texas DMV office. At your visit, you must provide:
Your driver's license or ID
The original or a certified copy of the legal name change document which may be:

Marriage certificate
Divorce decree
Court document

Fee payment of $11
Once all the documents are verified, you will get a temporary card until the official one is sent in the mail. The time of delivery may vary.
Texas Title/Registration for a Name Change
A name change will also require you change the name of your vehicle title and registration. To make the changes, you must visit your Texas DMV office and submit some documents. So to change your name on your car title, submit in person:
A completed Application for Texas Title or Form 130-U and include your new name
Your legal name change document such as:

Marriage certificate
Divorce decree
Court documents

A letter that includes:

Your car information
Your name change reason

Original car title
Title fee (fee will vary by county)
Texas Voter Registration Name Change
Informing the Texas Secretary of State about your name change is as important as the DMV and the DPS. You want to vote when the time comes and you sure will not if the name on file does not correspond to your current one. To complete this process, you can do it by mail, online, or in person.
By Mail
If you are not registered to vote in Texas, go to a Voter Registration office in Texas to sign up. If you are, write your new name behind your current voter registration certificate. You can also complete a voter registration application online by providing your information. You can get the application from the office and complete it manually. Once you complete the form, mail it to the Texas country clerk's office.
In Person
You can download the application and complete it manually. Once you are finished, submit all the necessary documents at any voter registration office.
Online
To complete the process online, visit the website and provide this information:
ID car number or driver's license number
Date of birth
Audit number
Social Security Number
Voter registration certificate number
The county you currently reside
Social Security Administration Name Change
Now with your new driver's license or ID, you can visit the SSA to submit your name change. The process can be done in person or by mail. You must provide this information:
Completed Form SS-5, Application for a Social Security Card
Certified name change document such as:

Marriage certificate
Divorce decree
Court document

Proof of identity such as:

Driver's license
State ID

Proof of citizenship such as:

Birth certificate
Certificate of citizenship
Certificate of naturalization
All the documents you provide must be either original or certified copies. Your SSN number will not change after completing your name change.