Delaware Car Registration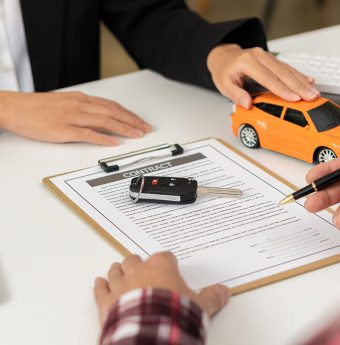 Want to get your car on the road in Delaware? It's an easy process done in person.
A Delaware car registration requires you to file and submit a few different forms and fees depending on the type of vehicle. Registration is a requirement whether you've purchased a vehicle new or used, through a private or dealer sale. The registration process shouldn't take long if you follow this guide.
Your main tasks include satisfying:
Proof of identification
Registration/Title Application
Vehicle testing
Taxes and fees
…plus, any applicable vehicle testing and disclosures.
You will register your vehicle, in person, at a Delaware Division of Motor Vehicles. Failing to register on time can result in potential issues if you have driving privileges.
We've outlined the Delaware registration process, keeping it as easy as possible.
Your Delaware Vehicle Registration Guide: Step-by-Step
There are two requirements when registering a vehicle in DE:
Check with local auto insurance providers for the minimum coverage to get behind the wheel. Else, refer to our Delaware auto insurance directory for a cross-selection of options.
Secondly, every vehicle must undergo a safety test and emissions/smog check. These checks are done periodically at a testing station. Those new to the state will get their vehicle checked. The only exceptions are if it's the first year of the vehicle and the timing of your last inspection.
Got this covered? Great, let's get you started…
Registering a Vehicle from Private Parties
You must register your vehicle within 30 days of its purchase.
To register your vehicle's title/registration in Delaware you will:
Visit your local DE DMV office
Show your Delaware driver's license or ID card
Submit the Certificate of Title Application (MV-212)
Submit the signed-over vehicle title
Provide proof of auto insurance
Pay your registration fees and taxes
You'll receive your registration documents and be on your way. Congratulations, you've completed the vehicle registration process in Delaware! The registration is good for 1 to 2 years.
Are you bringing a car from out of state? You will:
Get insurance
Complete the vehicle inspection
Provide the bill of sale or title

Plus: VIN and vehicle make, model, year

Pay the registration fees
A temporary tag is available using these same steps. This temp tag is good for 5-days until you get an inspection and register the vehicle.
Registering a Vehicle from Dealerships
Dealers typically submit the paperwork on your behalf. This often includes all fees associated with the registration – but check before you drive off the lot. If they don't, get your paperwork and file the registration using the 'private parties' steps above.
Delaware Vehicle Registration Fees
Your typical fees when registering in Delaware include:
Registration (per year): $40
Inspection fee: Free
Duplicate plates: $10 (with sticker), $5 (without)
The DE state's website provides a handy fee calculator to get the full details of your expected registration costs. Check it out and keep it in mind when you go to the DMV.
Set a Reminder for the Vehicle's Registration Renewal
You'll want to mark your calendar or else wait to receive a renewal notice when it comes time. Check the exact date listed on the registration documents so keep this in mind!
See our DE registration renewal guide for more info when you're ready.
Congratulations! You've registered your vehicle in the state of Delaware. Practice safe driving on the roads, be nice to others, and you'll have a wonderful time on the open roads!