How to Get Your Idaho Driver's License: Step-by-Step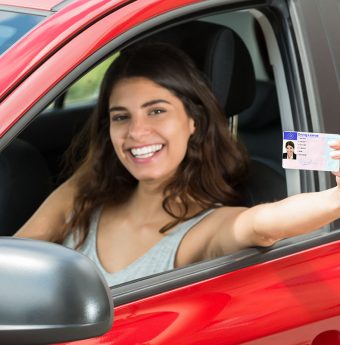 The Idaho Division of Motor Vehicles oversees the state's graduated licensing program. This program helps first-time drivers learn driving basics through testing, behind-the-wheel practice, and real-world experience under the supervision of a licensed adult until they turn 17 years old.
Idaho begins this program with the supervised instruction permit (SIP).
This guide shares the entire process of getting a permit to an unrestricted license. It also covers how you can apply for a license as an adult or if you've recently moved to the state.
You will visit an Idaho DMV throughout each of licensing applications.
Getting a Driving Permit in Idaho
Idaho's GDL program begins when a teen, ages 14 1/2 to 17, applies for the supervised instruction permit. The SIP is a requirement before the teen takes a driver's education program.
Once these two are satisfied, the teen can then practice on-the-road before upgrading to an intermediate license.
Teens new to the state should apply to the GDL program within 90 days of residency. Anyone under 17 years old will go through this process. If they've taken a driver's ed course in another state, they can submit their certification to skip the pre-requisites. If holding a license, they can transfer their out-of-state license by following the steps under the "adult license" section.
Here is how the teen will apply for their learner's permit.
Applying for the Learners Permit
Visit a local DMV office
Provide proof of Idaho residency
Provide (2) proofs of Identification

Examples: ID card, passport, social security card, and/or birth certificate

Provide proof of high school enrollment
Provide written consent form from the parent/guardian(s)
Pay the permit fees:

$15 learner's permit fee
$6.50 admin fee
Is There a Written Test?
Idaho does not require you to take and pass a written test when getting your learner's permit. You will, however, need to take this when upgrading to your intermediate/restricted license. Consider taking a licensing practice test to get an edge on your understanding of road rules.
Idaho Learner's Permit Driving Restrictions
New learner's permit holders must obey the following:
During driver's ED: Must be accompanied by a driver's ed instructor
After driver's ED: Can drive with a licensed driver over 21 years old
You must follow all road rules – seatbelts, no phones, etc. – while behind-the-wheel else you could forfeit your ability to drive. And, you may be required to restart the GDL program!
Related Read: How Long Does it Take to Learn How to Get and Get a License?
Behind-the-Wheel Requirements
Idaho teens are expected to get 50-hours of behind-the-wheel experience.
This includes:
40 hours of day driving
10 hours of night driving
The teen must always be supervised during their practice.
Getting a Provisional Driver's License
An Idaho provisional / intermediate license becomes available for teens meeting these requirements:
Be at least 15 years old
Held their learner's for at least 6 months after driver's ed or turned 17
Completed the 50-hours of behind-the-wheel experience
Have not received any traffic violations while holding their permit
Got these covered? Here is what you'll do when visiting the DMV:
Provide proof of Identification
Provide proof of Idaho residency
Provide your Social Security card
Provide proof of school enrollment
Provide the certificate from driver's ED
Pay the fees:

$15 licensing fee
$28.50 testing fee
$6.50 admin fee
You will take a written test during the application. The written test examines your knowledge of road rules and safety. You should have gained this knowledge during your behind-the-wheel experience and driver's education – else brush up by taking online practice tests.
Your intermediate license restrictions include:
If under 17: 1 passenger under 17 (family member) for the first 6 months
If under 16: Only day driving, night driving with licensed (21+) adult, no passengers in the front seat beside the supervising driver
Teens will hold their provisional license until they turn 18 before upgrading to the full (adult) license.
Getting an Unrestricted (Adult) License in Idaho
Teens going through the state's GDL program must meet these requirements when upgrading their provisional license into a full (adult) license:
Be at least 18 years old
Have passed prior licensing steps
New to the state and transferring a license? You will have 90 days from the time you're a resident to transfer the license at your local DMV. You will surrender your out-of-state license and proceed with the steps below to get your Idaho license.
The steps required to get an unrestricted Idaho license includes:
Visit an Idaho DMV office
Provide proof of ID residency
Provide proof of identification
Take the applicable tests:

Vision screening
Written test ($3 fee)

Take and pass the road test ($28.50 tester fee, $6.50 county fee)

Provide a registered vehicle with Idaho auto insurance
May retake every 3 days but will repay the fee

Get your photo taken
Pay the licensing fees

18 to 21 years old: $30 (valid for 3 years)
20 years old: $15 (valid for 1 year)
21 years and older: $30 (valid for 4 years)
21 to 62 years old: $55 (valid for 8 years)
Those in the GDL program will have taken their 40-question written test before applying. The extra tests are applicable to those over 18 wanting to get their license. Be prepared by either going through the GDL program or taking a driver's education course (or both!).
And like that… you have an adult license!
Related Read: Winter Driving: A Survival Guide for Drivers
Congratulations!
You've completed your journey in getting an Idaho driver's license. Your unrestricted license is good for a typical 4 to 8-year period. The timing and price vary depending on when you're applying.
What's next? Consider registering a vehicle in Idaho under your name.
Stay safe out there!