How to Get a Driver's License in Indiana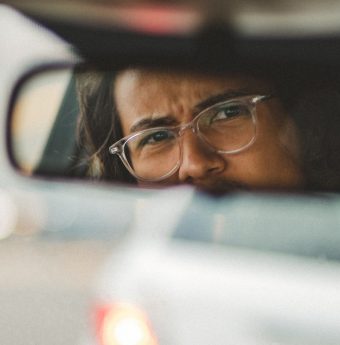 Like other states, Indiana uses a graduated driver's licensing program to help first-time drivers ease into their time on the road. This begins by getting a learner's permit eventually upgrading to a probationary license as the driver ages.
Anyone applying for an adult license – without a current license — will hold a driver's permit else have to apply for a teen license before upgrading to the unrestricted. This gives drivers ample time to get behind-the-wheel experience and pass requirements when upgrading.
Driver's permit requirements include:
Hold the permit for 180 days (if under 21)
Meet age requirements:

Option #1: 16 years old and 270 days
Option #2: 16 years old and 90 days (with driver's ed certificate)

Complete 50 hours of supervised driving

10 hours of this practice at night
Any out-of-state licensed drivers will surrender their license and re-apply for an IN license within 60 days after establishing residency (driving tests are typically waived). Those without or with licenses less than 180 days old will surrender their license and apply for their learner's permit.
Applications for an Indiana driver's license are done at an IN BMV location. There, applicants will pay for a vision and driving test, along with submitting their documents and payment.
Getting Your Indiana Driver's License: How-to
Driving in Indiana is a privilege, all drivers must respect local and state laws when on public roads. Applying for an IN driver's license doesn't take long if you meet the requirements. Driver's education courses are optional during the permitting but do prove helpful as you'll take a DMV driving test during your license application.
Here's what you need to know.
What You'll Do at the DMV
Schedule and visit an IN BMV
Provide proof of (U.S.) Identification

Birth certificate, passport, visa

Provide proof of Social Security Number

Card, W-2, pay stub

Provide proof of IN residency (2 documents)

Utility bills, bank statements, voter ID

Pass the tests/exams

Driving test (waived if you did driver's ed)
Vision test

Submit your Log of Supervised Driving
Pay the application fee

75 and Younger: $17.50
75 to 84: $11
85 and Older: $7
Your license validation varies by age with 75 and younger is 6 years, 75-84 for 3 years, and 85+ for 2 years. Keep note of this expiration date to plan your license renewal when it comes time.
Notes about Testing and Exams
The DMV driving test verifies adult drivers can show respect for the road. You will need to make an appointment before taking the test. You will provide your own vehicle when testing.
Driver's education is not required in the state of Indiana, but it can be a great help to get behind-the-wheel experience when applying for a license. These courses give classroom and real-world driving tests so you're best prepared for the road and driving test during licensing.
You may retake the driving test every 2-weeks if you fail. You will wait 2 months before retaking the test if you fail 3 times so get practicing before the big day!
Your vision screening verifies your eyesight, bring lenses if you require them.
Congratulations!
Submitting these documents, taking these steps, and passing the tests will grant you an unrestricted driver's license in Indiana. Safe driving is a necessity but so is your everyday conduct. Breaking road rules and local/state laws can result in a suspended license. Or, a revoked license if you're a habitual offender.