Indiana License Renewal: A Step-by-Step Guide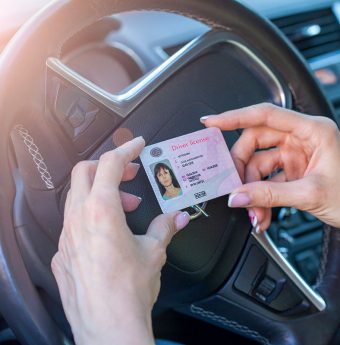 The Indiana Bureau of Motor Vehicles (Indiana BMV) sends a notice to renew your IN license about before it expires. Your license expires on your birthday, keep this noted so you're ready to renew. Those unable to renew within the timeframe may face consequences like an expired or suspended license.
You have up to 2 years before its expiration to renew your license. You can renew your license for some time afterward but will pay a late fee (ex. $6 fee if 180 days late). Plus, you may need to retake exams (vision, written, and driving) if you allow them to lapse up to 3 years and beyond.
Renewing your license makes it valid for another 6 years for most drivers (75 and under). A license is valid for 3 years for those 75-84 and just 2 years for those 85 years and older.
You can renew an Indiana license via:
This guide helps you understand the driver's license renewal steps. Keep reading to understand which documents you'll file and the fees you'll pay throughout each process.
How to Renew Your Indiana Driver's License
Renewals are available to those with valid licenses and who meet certain requirements. These requirements include items like having renewed in person the prior time, being under 75 years old, having less than 6 points on your record, having information up-to-date, and others. Call your local DMV for specifics.
You may need to apply for an Indiana license if you allow it to lapse. Otherwise, follow through with each of the renewal methods to get back to driving!
In-person Renewal
Consider making an Indiana driver's license renewal appointment with your local IN DMV to make the process quick and easy. The state prefers drivers renew online for convenience, but this option remains available – and for those that do not meet online renewal requirements.
Do the following when there:
Provide your license
Take a new photo
Sign your license
Pay the fee

Under 75yo: $17.50
75 – 84yo: $11
85yo or older: $7
Notes: You may opt to upgrade your license to a SecureID by providing extra proof of ID and residency such as your U.S. passport, W-2, utility bill, and other official documents. Anyone under 21 with 6 points or more on their license will need to retake the vision, written, and driving exams to renew.
Online Renewal
Can you renew your IN license online? Yes, it's the easiest (and preferred) method.
You will do the following:
Visit the IN BMV site
Provide your information

Name
Date of Birth
Address
Social Security Number

Pay the renewal fee
You should receive your new license within 2 weeks of its renewal.
Mail Renewal
Mail renewal is not currently available in the state of Indiana.
A Note about Expired Licenses
You're wondering, "Can I drive with an expired IN license?". No!
You will likely receive a hefty fine or face jail time. You'll also likely have your license suspended or revoked, causing the long, drawn-out process of renewing a suspended IN license. You'll need to have it reinstated if you plan to legally drive on the roads of Indiana again.
Find an Indiana License Office
Need answers to your questions about renewing your IN license? Or, want to do the renewal process in person? Use our IN DMV Directory to find the nearest licensing office near you!