Indiana Provisional License: A Step-by-Step Guide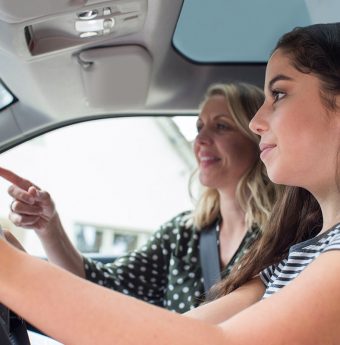 The Indiana Bureau of Motor Vehicles (BMV), like other states, uses a graduated driver licensing (GPL) program to help teens understand and learn driving responsibility.
The GPL program begins at age 15 without enrollment in an Indiana driver's education program. Otherwise, teens can begin this GDL program when they turn 16 years old.
The learner's upgrades to the provisional license eventually become a full (unrestricted) license. Teens and new drivers can take a driver's education course and get a waiver to expedite their licensing. This next step in getting an Indiana license may seem stressful but it's easier than you think.
Note (18+): If you're older than 18, see our Indiana Driver's License Guide (at the bottom).
Read this guide to understand what's needed from you when applying for this intermediate license.
Indiana Provisional License Requirements
Teens can apply for their provisional license by meeting these requirements:
Have their learner's permit (see our guide)
Be 16 years and 90 days old and have completed a driver's ed course
Be 16 years and 270 days old without a driver's education course
Have practiced their 50 hours of behind-the-wheel experience
Have no traffic violations within the window of applying
Basically: Teens must hold their learner's permit for at least 180 days before upgrading.
Meet these requirements and teens/new drivers can process their license upgrade.
Upgrading a Learner's Permit into a Provisional
You will visit the myBMV scheduling system to make an appointment for your driving test. You will also need an insured vehicle when applying for the permit. See our Indiana auto insurance guide if you or your parent/guardian have yet to get the vehicle insured and need guidance.
Then, when you're ready – you will do the following to turn your learner's permit into a provisional.
Visit your local IN BMV office

Find one: See our IN directory

Turn in the learner's permit
Submit the Log of Supervised Driving (54706)

Note: Signed by parent or guardian

Provide proofs:

Identification
Social Security number
Lawful presence
Indiana residency

Submit your driver's ed certificate (if applicable)
Have a parent or guardian sign the license application
Pass your tests:

Vision
Written (if applicable)
Driving
The driving test is taken at the BMV, examining your ability to adhere to road signs and follow directions. You may skip this if the driver's education course includes a certificate of completion. Or, if the course distributes licensing (if they're accredited with the state).
Pass everything you'll have your Indiana provisional license!
Indiana Intermediate License Driving Restrictions
The intermediate (provisional) license gives you greater freedom on the road but does have restrictions:
First 180 days: No driving between 10 PM and 5 AM and no passengers unless they're a licensed driver over 25, spouse (over 21), child, or sibling
After 180 days: No driving between 1 AM to 5 AM (Sat/Sun), after 11 PM (Sun – Thu), and before 5 AM (Mon – Fri), you may carry passengers
Talk with the DMV to understand your restrictions and exceptions. Some drivers may have exceptions if going to work, school, and/or church during these restricted hours. However, passenger restrictions remain in place even with these exceptions.
Upgrading a Provisional to an Unrestricted Indiana License
Teens and new drivers will hold their provisional licenses until they turn 21. At that time, they should return to the DMV to issue an updated license featuring their photo and any changes to information.
See our Indiana Driver's License Guide when the time comes. Or, if you're a new driver over the age of 18 and need to apply for a license.