How to Get Your Kansas Driver's License: Step-by-Step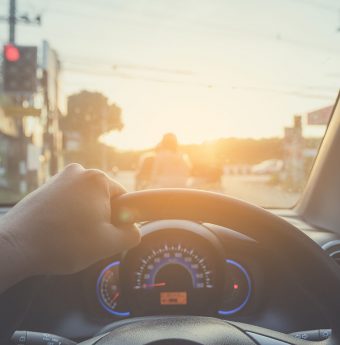 The Kansas Department of Revenue oversees the state's graduated licensing program. This program helps first-time drivers learn driving basics through testing, behind-the-wheel practice, and real-world experience under the supervision of a licensed adult.
Kansas's GDL program begins at 14 years old and begins with a learner's permit.
The permit turns into a restricted driver's license by the time they turn 15. Before long, and by meeting requirements, teens will upgrade their restricted license to an unrestricted license giving them more freedom when driving before becoming an adult.
This guide shares how you'll get a license in Kansas, starting with a learner's permit. The guide then covers what's required if you're getting a provisional license. Finally, it shares the requirements to get a license as an adult or come from out-of-state.
You will visit a Kansas DMV throughout each licensing application.
Getting a Learner's Permit in Kansas
Let's begin with a brief overview of the Kansas learner's permit stage:
The graduated licensing program begins at age 14
Driver's education isn't required but can let you skip testing
Out-of-state teens cannot transfer their learner's permit
Here is what you should know about getting a learner's permit…
Applying for Your Learner's Permit
Those 14 and 15 will need their parent's permission before applying; here are the steps:
Visit a local KS DMV office
Show proof of ID & residency
Pass the tests:

Vision
Written

Pay the fees:

Permit: $31
Photo: $8
Testing: $3
You may skip the written test if you have a letter of completion from a driver's education course.
Your driving restrictions with a Kansas learner's permit include:
Supervised driver (21+)
Only the supervised driver can sit in the passenger seat
Do not text or use a phone while driving (besides emergency)
Given you pass the requirements, wait the year, and get your behind-the-wheel experience – you can move forward into getting a restricted driver's license (see below).
About the Written Test
You will take a knowledge test during the application. This test examines your ability to acknowledge and answer road safety questions. We recommend reviewing your KS driver's manual or use online practice tests from approved third parties to improve your passing chances.
Pass these requirements and you can drive with a qualified parent, guardian, or driving trainer. This will let you gain the valuable behind-the-wheel experience needed when upgrading to a provisional.
Behind-the-Wheel Requirements
Kansas requires 25 hours of driving practice before getting a restricted license. The 1-year gap between learner's and restricted license gives you plenty of time to get this experience. Else, consider a driver's ed course if you're having trouble securing this experience.
Getting a Provisional (Restricted) Driver's License
The provisional license is available to teens 15 or 16 years old. Out-of-state teens cannot transfer their permits, so they will go through the graduated licensing program as everyone else.
Kansas has two versions of this level of license:
Restricted (usually for 15-year old)
Less restricted (usually for 16-year old)
Driver's ed is required for a restricted license if under 16 years old. This may seem odd, but requirements are requirements; check with providers or our online directory to find great options.
Requirements when upgrading includes:
Be at least 15 years old
Held a learner's permit for one year
Finished 25 hours of driving experience
Get a certificate of driver's ed completion (under 16 years old)
Meet this requirement and then complete the following:
Visit a local DMV (with parent's permission if under 16)
Provide your ID and residency documents
Provide proof of driver's ed completion
Provide your 25-hour driving log (Form DE-IB01)
Pass your vision test
Pay the fees:

License: $20
Photo: $8
Test: $3
Congratulations! You've upgraded your learners into a restricted (or less restricted) license!
Restrictions for drivers until 16 years old include:
Must be accompanied by a licensed adult (21+)
Must keep to main roads between school/work and home
Stick to driving to and from school, work, or farm-related work
No non-siblings in the vehicle while driving
Don't use a cell phone to call or text while driving
Restrictions for a less restricted license, for the first six months over age 16, let you drive between 5 AM and 9 PM, to and from work/school, or to a place of religious worship. Only one non-sibling under 18 can accompany you when driving. Plus, you aren't allowed to text or call when driving.
You are expected to drive the remaining 25 hours of your behind-the-wheel experience before upgrading to an unrestricted license. 10 hours (of the total 50) should be done at night.
Follow these rules and you'll soon have an unrestricted license!
Getting an Unrestricted License in Kansas
Those with a provisional can upgrade to a basic or enhanced license when they meet the criteria.
Licensing criteria include:
Turn 17 years old
Have a valid driver's license
Have completed a driver's education course (if under 18, for your restricted)
Are cleared of any unpaid fines and fees
Have a total of 50 hours of driving experience
Auto insurance (if you're driving your own car)
You may transfer an out-of-state license within 90 days to switch to a Kansas driver's license. You will complete the steps below minus the testing unless your license has expired for more than one year.
The steps required to get an unrestricted Kansas license include:
Visit a Kansas DOR office
Submit your proof of ID, residency, and SSN:

Birth Certificate or Passport
W-2 or Utility Bill
Social Security Card

Submit your proof of driving experience

50-Hour Affidavit (DE-IB01)

Pass your required tests:

Vision
Written
Driving

Pay your licensing fees:

Under 21: $31
21 to 65: $29
65 and older: $23
… or a $20 licensing fee when upgrading your provisional to unrestricted.
You may also pay an $8 photo and $3 testing fee when finalizing the transaction.
Those are having already passed the written test through prior graduated licensing may still need to take this test. The driving test is done on-location, testing your ability to handle the vehicle – a driver's education course generally handles this testing and provides the needed experience if you desire.
Congratulations!
You've completed your journey in getting a Kansas driver's license.
What's next? Consider registering a vehicle in your name.
You'll want auto insurance during the registration and throughout your time on the road. Check with local insurance providers or use our KS insurance guides for full details!