How to Get Your Louisiana Driver's License? Step-by-Step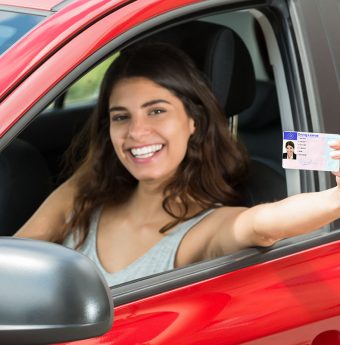 The state of Louisiana has a graduated driver's licensing program for first-time drivers.  This graduated licensing program will help new drivers learn safe driving techniques and develop the skills necessary for full, unrestricted licensure. The program consists of three stages: the learner's permit stage, the intermediate license stage, and the regular unrestricted license stage.
Each stage requires different experience levels and responsibility before a driver can move on to the next level.
The GDL program is operated through the Louisiana Office of Motor Vehicles (OMV) to give drivers an understanding of road rules and behind-the-wheel driving experience.
The GDL process includes:
Learner's Permit
Provisional License
Unrestricted License
Before going to the DMV, you'll want to collect:
Proof of identification
Proof of residency
Payment method
You will visit an LA DMV when applying for your new driver's license.
Important: Every resident applying for a permit, provisional, or license will need to either complete a driver's education course or a pre-licensing course.
Getting Your Unrestricted License
You will need to file the appropriate forms and pass specific requirements, whether you're holding a provisional license or coming into the unrestricted license because you're older.
The main requirements include the following:
When ready, complete the following:
Find and visit a DMV office
Complete and file the Application for License or Identification Card (DPSMV 2003)
Provide proof of identification:

One primary document like a REAL ID, birth certificate, passport
Two secondary documents like W-2, social security card, and voter registration card
Or: Your provisional or out-of-state license

Provide proof of LA residency
Show proof of auto insurance
Pass your tests:

Vision
Driving
Knowledge

Get your photo taken and pay the $32.25 fee and local fee

75 years or older: $18.75
Local fee: $6
Provisional holder: $13 upgrade fee
Your driving test takes place at the DMV when licensing. You'll provide your own insured vehicle for this test. You may choose to take and forward confirmation from an authorized third party, too.
The knowledge test is a recap of road signs and rules. Practice a study test before going if you're unfamiliar with the information.
Out-of-State Drivers
Licensed drivers coming from out-of-state will apply within 30 days of residency. The state expects you to surrender your old license and show proof of your driving record. You may submit a clearance letter when transferring your license, too.
Congratulations!
Following the graduated program or appropriate sections will have earned you a permit, provisional, or unrestricted license. Continue practicing safe driving and enjoy your time on the roads.
Complete a vehicle registration when ready to get your own set of wheels!