Montana Registration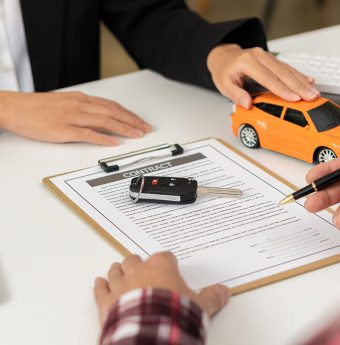 Want to get your car on the road in Montana? It's an easy process done in person.
A Montana car registration requires you to file and submit a few different forms and fees depending on the type of vehicle. Registration is a requirement whether you've purchased a vehicle new or used, through a private or dealer sale. The registration process shouldn't take long if you follow this guide.
Your main tasks include satisfying:
Proof of identification
Registration/Title Application
Proof of ownership
Paying the taxes and fees
…plus, any applicable vehicle testing and disclosures.
You will register your vehicle, in person, at a Montana Motor Vehicle Division (MVD) in the county you reside. Failing to register on time can result in potential issues if you have driving privileges.
We've outlined the Montana registration process, keeping it as easy as possible.
Your Montana Vehicle Registration Guide: Step-by-Step
Montana vehicle registration includes for options:
12-month – Pay all fees, taxes, and specialty needs
24-month – Pay all fees, taxes, and special needs for 2 years
Permanent – Open to vehicles older than 11 years
Quarterly – Open for non-residents temporarily needing to drive in the state
Coming from out-of-state? You'll have 60 days to transfer the title, get MT auto insurance, and complete the registration process like it's detailed below.
Bought from a dealership? The dealer will handle the paperwork and registration on your behalf letting you get on the road without any trouble.
Everyone else should use the process below.
Registering a Vehicle from Private Sellers
Complete the transaction between the parties – making sure everything is signed – and then head down to your local Montana DMV office (find one here).
To register your vehicle's title/registration in Montana you will:
Submit a vehicle registration application
Submit your signed vehicle title
Show proof of auto insurance
Pay your fees and taxes:

Registration
County option tax
Titling fees (if applicable)
Plate fees (for specialty plates)
You'll receive your registration documents and be on your way. Congratulations, you've completed the vehicle registration process in Montana!
Montana Vehicle Registration Fees
A 12-month registration costs $28 to $217.
For example:
Vehicles 11 years and older: $28
Vehicles 5 to 10 years old: $87
Vehicles 4 years and newer: $217
This fee is based on the vehicle details and registration time.
You can apply for permanent registration once the vehicle is more than 11 years old. A permanent Montana registration costs $87.50. You will also pay a Highway Patrol fee ($10.30), county tax based on MSRP/type/depreciation, insurance verification ($5), and optional state park support ($6).
Note: You cannot get a permanent registration if you have specialty license plates noting you need to pay annual renewal fees.
Check with your local DMV for potential fees and taxes if you have questions. Each vehicle varies so keep this in mind when purchasing a vehicle from a private party or dealership.
Set a Reminder for Registration Renewal
You'll want to mark your calendar or else wait to receive a renewal notice when it comes time. You can check the exact date listed on the registration so keep this in mind and mark your calendar!
See our MT registration renewal guide for more info when you're ready.
Congratulations! You've registered your vehicle in the state of Montana. Practice safe driving on the roads, be nice to others, and you'll have a wonderful time on the open roads!