How to Renew Your Car Registration in Nebraska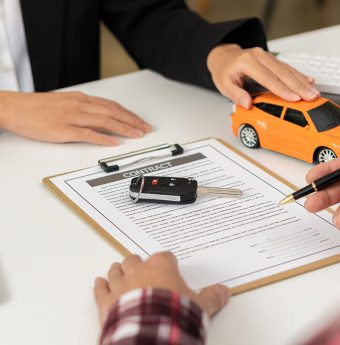 The Nebraska Department of Motor Vehicles oversees your vehicle's registration renewal. You'll need to complete the renewal to continue (legally) driving. Your expiration depends on when you registered and is noted on the registration documents.
You should receive a renewal notice from the NE DMV before your vehicle's expiration.
This notice shares the renewal date, vehicle information, and any applicable issues preventing you from renewing the vehicle. Check with your local DMV for registry details or by visiting their website if you haven't received this notice.
Most drivers can renew their vehicle's registration:
Failing to renew your car's registration can result in penalties. Given your license isn't suspended or you have other restrictions from completing it – use the sections below to complete the renewal steps.
Nebraska Car or Truck Registration Renewal: Step-by-Step
Your registration renewal method will vary, depending on what's mentioned on the notice.
If you've lost your tags sometime between the renewal, you can have them replaced. See our duplicate title guide for more information about this process if it's a requirement for your renewal. You will also want minimum auto insurance when legally renewing to drive on state roads.
Here are the ways to renew your vehicle's registration in Nebraska:
Renewing In-Person
Renewing in person is your option if the renewal notice doesn't state you can do so otherwise. You will do an in-person renewal if removing a lienholder from the title, too.
Here is what you'll do when renewing in person:
Go to your local NE DMV/tag office
Present your NE driver's license
Submit the bottom portion of the renewal notice or registration
Show proof of auto insurance or financial responsibility
Pay your registration fees and property taxes

Registration: $15
Plate fee: $3.30 (for new, replacement, or duplicate)
County fund: $1.50
Recreation fund: $1.50
DMV cash fund: $2.00
EMS operation fund: $0.50
Vehicle tax/fee: Varies
… plus, any extra county taxes depending on your location.
The clerk will process your information and complete the transaction. Congratulations, your vehicle is now good for another few years on the road!
Renewing Online
Your notice will outline if you're eligible to renew online though there are certain restrictions like:
Must have current auto insurance (since the state does a bi-monthly check)
Douglas County uses its renewal portal: found here
Certain vehicles (affixed license plates, tax-exempt status, farm/commercial) are ineligible
Any vehicle with registration expired for more than one year
Here is how to renew your Nebraska car registration online:
Visit the ClickDMV website
Enter your information:

Renewal notice, or
Current registration info

Follow the on-screen prompts
Pay your renewal fees
Print the confirmation page
You'll receive your new registration to the address you have on file in the mail in about 5 – 7 business days. Check with your local DMV if it's been longer than a week since your renewal.
Renewing by Mail
Mail-in renewals are the same as going to the DMV. You'll submit the same information but mail it to the treasury office on your renewal form. This process shouldn't take long, but expect an extra week or two for your documents.
Congratulations, You're Done!
You've completed the NE vehicle registration renewal.
Keep track of your expiration date by writing it on your calendar. Otherwise, keep an eye out for the next time a renewal notice comes your way. Forgoing renewal can land you in trouble with fines and penalties, so don't let this lapse – happy driving!