New York Car Registration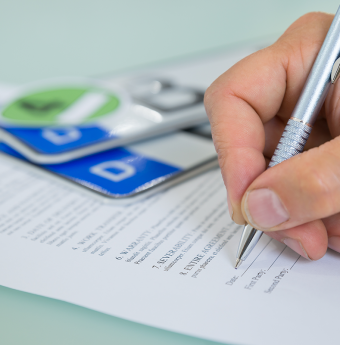 Are you a New Yorker in need of information on car registration? Look no further. This blog post has all the answers you need to know about registering your vehicle in the state of New York. Whether this is your first time or you've registered cars with NY DMV before, we have useful knowledge and tips that can make the process smoother for you.
New York requires you to register a car and title one of its NY DMV offices in person. This process includes bringing identification, filing the MV-82 form, showing ID/insurance/ownership, and paying registration & license plate fees and state taxes.
The registration process is quick-and-easy if you follow this guide.
New York Car Registration: Step-by-Step
Vehicle registration depends if the car is new or used. You will have 30 days after its purchase to get it registered. Every vehicle – driven or not – requires insurance.
What you'll need to collect/bring:
Proof of vehicle ownership
Proof of ID or NY License
Proof of insurance (FS-20)
Proof of vehicle inspection (if transferred)
Completed Vehicle Registration/Title Application (MV-82)
The registration fees vary by vehicle age, type, and value; apply if you haven't yet registered.
Registering a New Car with Dealership
New cars bought through dealerships submit vehicle documentation to the NYS DMV. The dealership would assist you in getting an insurance card, paying for registration and getting a bill of sale.
What's next?
Get insurance
Go to the DMV office
Provide proofs, submit forms, and pay the registration
It's important to get your bill of sale from the dealer, as you'll pay state taxes during registration. You will also want to note the mileage while filing your car's title & registration.
Registering a Used Car
Registering a used car has a similar process. Individuals buying a used car must be inspected when transferring a title.
Then:
Have the seller sign the title in your name

Both sign the Statement of Transaction Sales Tax Form (DTF-802)

Bring ID, vehicle title, and proof of insurance (FS-20)
Provide an applicable inspection certificate
Submit the Vehicle Registration/Title Application (MV-82)
Pay the tax, registration, and plate fees
You will receive:
A copy of the transaction
License plate and registration sticker
You'll get the plate and tag on the spot, letting you roll out of the parking lot and back onto the roads.
Vehicles With Liens
If you have a car loan and your title is held by a lienholder, the New York State DMV will note this on your registration and title.
Go to the local Department of Motor Vehicles and submit a copy of your vehicle title that has been certified by the lienholder. The certification and the copy of the title need to be on the same page.
Obtain a statement from the lienholder on their official company letterhead that:
Identifies the owner of the vehicle
Get the following the year of the car, its make and model, and the vehicle identification number (VIN).
This statement indicates that the lienholder holds the original title and is aware that the vehicle owner is registering the vehicle in New York. However, the lienholder statement cannot ask for registration notification from the NYSDMV as they do not offer that service.
Once you have obtained all the required documentation from the lienholder you will need to present the New York State Insurance Card (Form FS-20) and complete both the vehicle registration title (Form MV-82) and Claim for Sales Tax Exemption ( Form DTF-803).
Once all the forms are complete you will then need to pay the registration fees which are based on the weight of the vehicle.
About the Inspection
You will get a smog and car inspection every 12 months.
This inspection must be completed within ten days of purchasing the car – you'll receive a temporary sticker until it's done.
Refer to the New York State Inspections page for all inspection-related details.
New York Registration Fees and Taxes
New York vehicle registration wholly depends on which county it's registered.
Typical fees include:
Title Fee: $50
License Plate Fee: $25
Sales tax depends on your county and jurisdiction. You may need to pay an extra $32.50 if you operate an electric or 6-cylinder+ vehicle. This extra fee covers 2 years.
See the Passenger Vehicle Registration Fees, Use Taxes, and Supplemental Fees for more information.
Need to Renew Your Vehicle, Instead?
A car-renewal is almost identical to the registration process. Learn what you'll do with our New York Car Renewal Guide.
Conclusion
All in all, registering a car in New York can seem daunting at first; however, it doesn't have to be. Planning ahead and researching any potential requirements necessary for registering your car is key to ensuring an efficient registration experience.
It's also important to remember to follow all applicable laws and regulations, as failure to do so may result in violations or other consequences across states.