The DMV Practice Test: What to Expect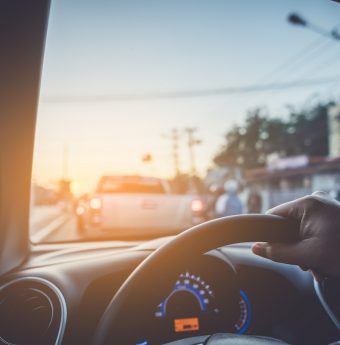 New drivers will often take a knowledge test when applying for their learner's permit, provisional license, or adult (unrestricted) license. This varies by state but is quite common as it tests your knowledge about road signs and rules, ensuring you're a safe driver.
There are three usual ways to practice for your knowledge tests:
Refer to your state's driving manual
Take an online practice test (or several)
Enroll in a driver's education course
Each state test has different requirements as to what's a "passing" score. It's best to ace the test as you'll need to respect the road rules and signs when behind the wheel.
What's on the Driver Knowledge Tests?
Most states include the same set of topics for their knowledge testing — including:
Identifying road signs, signals, and markings
How to handle turns, emergency vehicles, and understand right-of-way
Best practices with passing vehicles (or when not to)
Basics of defensive driving and proper vehicle use
Alcohol and drug awareness
Special driving instructions for different weather conditions and crossings
Sharing the road with other vehicle types
How to handle yourself if you're involved in an accident
State fines and limits
And, of course, an extensive overview of road signs.
For example — a practice quiz for the NY DMV looks like this: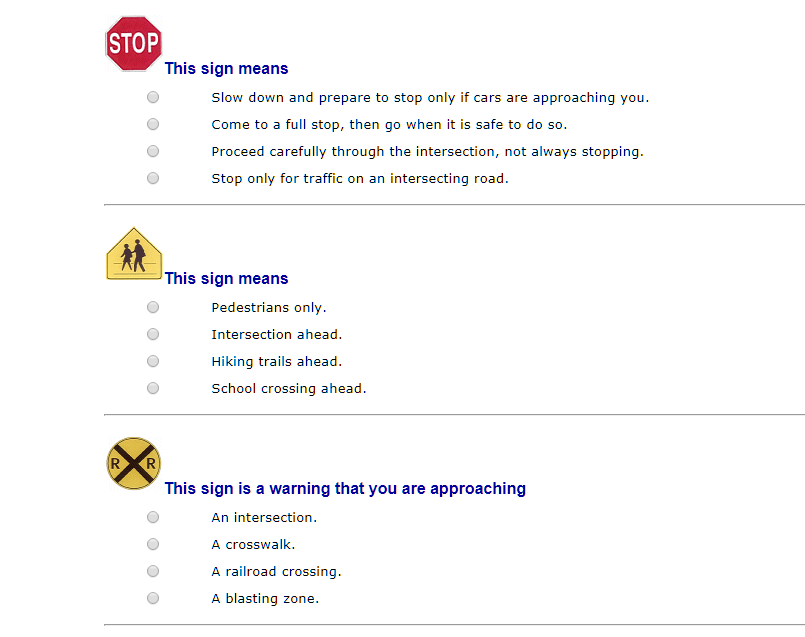 Many online practice tests follow these same principles. You'll go through educational material and take practice quizzes to reinforce your knowledge. Some are free, while others have paid options with added support or more extensive selections.
Where Will I Take the Permit or Knowledge Test?
You will often take the tests at the DMV though some states offer different locations. There, you'll often sit at a computer to complete your test. You'll have a limited time to complete the test and often may only take it 2 or 3 times before you'll need to re-apply.
What about Driver's Education Courses?
Many states require completion of a driver's education course during the state's graduated licensing program. These courses provide ample training and preparation for your permit or knowledge test.
In some states, you may turn in the letter of completion in place of taking the tests!
What's Next? Get Your Permit or License
Given you're reading this in preparation for your knowledge test — you may want to refer to our guides to help with your permitting and licensing.
See the following:
Each provides an overview of the process. Though, we recommend you search for your state's information using our directory. There, you'll find complete guides to applying for your license and a wealth of other valuable information when behind the wheel.