Car Registration & Title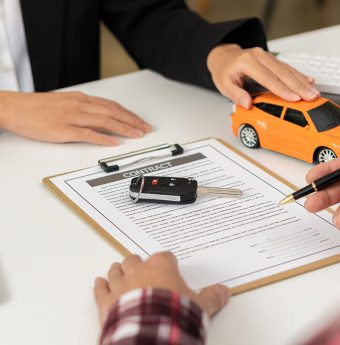 If you have recently purchased a new or used vehicle from a private seller, you must complete registration & title with your local DMV before your new car can legally hit the road. This critical step must be completed before you can legally drive on any public streets or highways. If you fail to complete this process, you may face several penalties within your state.
The requirements to obtain a registration and title vary from state to state, but there are a few basic similarities that every driver must follow to ensure they comply with local laws.
How to Complete the Vehicle 
Registration & Title

 Process

The process necessary to complete a vehicle registration & title is similar in most states, requiring drivers to complete an application form and provide other important documents. It is important to note that most DMV will issue a new car title, which you can then submit to register your new car.

It is also essential to keep in mind that most DMVs have a set amount of time available that you must complete this process after purchasing a new or used car. Otherwise, you may receive a penalty before you can continue the process.

If you are applying for a motor vehicle registration & title, you will generally need to complete several basic steps, including:
Visit your local DMV in person to submit the required paperwork
Provide all completed documents, including your application form, the bill of sale (if required), and any other applicable documents (these may vary by state).
Provide proof of insurance (if applicable)
Present proof of identity (driver's license, learner's permit, state I.D. card)
Complete payment for all applicable fees
While this list is not all-inclusive, each US state will require a similar process to be completed before successfully receiving a title and registration for your new car. Other requirements may apply depending on your state and county of registration.
Additional Information
If you move to a new state, you must complete the 

registration & title

process promptly. Each state has specific guidelines that must be followed.
Certain states require an emissions inspection before you can receive a title and registration.
Although the process varies, most states require that you complete the title and registration process in person and do not allow for completion online or by mail.