Wyoming Learner's Permit: A New Driver Guide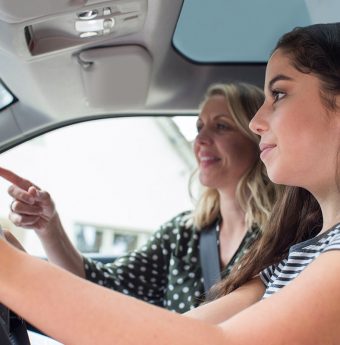 Wyoming uses a graduated licensing program to help new drivers learn road rules and get behind-the-wheel experience through testing and practice. This program intends to ease people into driving with some restrictions and supervision before they're given unrestricted access to the roads.
Wyoming has three stages to its licensing program:
Learner's permit
Provisional license
Unrestricted license
As you can expect, this article shares the details of getting a learner's permit.
How to Get a Learner Permit in Wyoming
Teens can start the graduated licensing program at 15 years old. Or, 14 years old if they choose to get a restricted learner's permit. This section details the normal permit.
To apply for a permit — new drivers will do the following:
Locate and visit their local WY DOT office
Complete a Wyoming Driver License Card Application (FSDL-705)
Have a parent or guardian sign the application, then submit it
Show proofs:

Identification (1 document)
Residency (2 documents)
Social Security number (1 document)

Pass the tests:

Vision
Written

Get a photograph taken
Pay the $40 permit fee
Follow these steps and the learner's permit will be yours!
About the Written Test
The written test will examine your ability to identify road signs and rules. This test is done on-location at the DMV. You can refer to your driving manual or take online practice tests to prepare for the written test.
You may retake the test if you fail it or if you missed a few questions. Else, you'll need to go home, study, and return the next day if your score was quite bad.
Learner's Permit Driving Restrictions
The permit does carry some restrictions — like:
You may only drive from 5 AM to 8 PM
You may only drive within 50 miles of your home
You must have a licensed adult (18+) accompanying you
Plus, you'll need to respect any road rules — especially cell phone usage — as breaking traffic laws may delay upgrading your license.
Behind-the-Wheel Requirements
You will need to get behind-the-wheel practice between the learner's permit and upgrading to a provisional license. You will log 50 hours of driving practice (10 at night). Record the information in a log as you'll submit this information when upgrading.
Upgrading to a Provisional WY License
You may apply for an intermediate (provisional) license 10 days after receiving your learner's permit. And, have completed the behind-the-wheel experience. You will also need to be at least 16 years old when applying for the provisional.
Ready to upgrade? See our Wyoming Provisional Licensing Guide for the details.