Iowa Learner's Permit: A First-Time Teen Driver Guide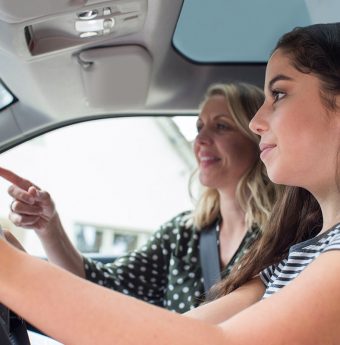 The Iowa Department of Transportation (DOT) oversees the state's graduated licensing program. This program helps first-time drivers learn driving basics through knowledge testing, behind-the-wheel practice, and real-world experience under the supervision of a licensed adult.
Iowa's GDL program begins at 14 years old, taking the first-time driver through a series of permits and licensing.
The first stage of the program is getting a learner's permit.
This guide shares the steps, requirements, forms, and fees needed to apply for your Iowa driver's permit.
Applying for a Learner's Permit in Iowa
The learner's permit is available for those aged 14 and residents of the state.
Non-U.S. citizens can apply to get their learner's permit, too, by providing legal documentation. Out-of-state, first-time drivers can transfer their learner if they're 16, have held it for 12 months, passed a driver's ed course, done 20 hours of supervised driving, and have a clean driving record.
An adult will accompany you to a local DMV when processing your learner's permit or submitting a consent form.
Here's how you can get a learner's permit:
Go to the DMV

Get consent from a parent or guardian

Or: Submit the Parent's/Guardian's Written Consent Form (430018)

Show proof of identity:

ID
SSN

Pay the $6 application fee
Pass the knowledge test
Get your learner's permit
You will take a knowledge test during the application. This test examines your ability to acknowledge and answer road safety questions. We recommend reviewing your IA driver's manual or use online practice tests from approved third parties to improve your passing chances.
Pass these requirements, and you can drive with a qualified parent, guardian, or driving trainer. This will give you the valuable behind-the-wheel experience needed when upgrading to a provisional.
Driver's Education and Behind-the-Wheel Experience
A driver's education course is required after your learner's permit but before a driver's license. These courses typically include 30 hours of classroom training and a few hours of behind-the-wheel training. During this time, you should also get 20 hours of behind-the-wheel experience.
Learner's Permit Driving Restrictions
Know that your permit carries restrictions before hopping on the road:
Must carry your permit
You cannot carry more than the number of seatbelts in your vehicle
Must be accompanied by a licensed driver
Try your best to avoid traffic incidents and violations, as this may restrict your ability to upgrade your license.
Next: Getting a Provisional License
When you're ready, follow our Iowa Provisional License Guide to learn what's required to upgrade a learner's permit into a provisional one.