Rhode Island Learner's Permit: A First-Time Drivers Guide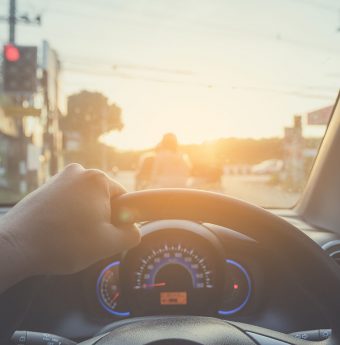 The state of Rhode Island and the Motor Vehicles Division (DMV) uses a graduated licensing program. This program helps new drivers learn road rules and gain available driving experience through exams, testing, and driving practice.
There are three stages to the graduated licensing program:
Learner's permit
Provisional license
Unrestricted license
Within the learner's permit stage, drivers will find two options: A limited instruction permit and an instructional permit. New drivers will need to take a driver's education course before they apply for their instructional permit.
The following sections outline the application process, rules, and requirements.
The Rhode Island Learner's Permit Requirements and Application
Drivers can apply for their permits at the following ages:
Limited: 16 to 18 years old
Instructional: 18 years old and older
As noted, new drivers will need to take a driver's ed course if they apply for an instructional permit between the ages of 16 and 18. Drivers are given a certificate of completion once they pass their course, which they'll bring when applying for their permit.
Applying for the Limited Permit
Drivers will visit their nearest Rhode Island DMV (find one here) and do the following:
Submit an Application for License Identification Card and Permits (LI-1 Form)
Get a signature on the application from a parent or guardian
Submit proofs:

Identification
Social Security number
RI residency

Show proof of driver's education
Pay the $11.50 permit fee
The permit is valid for one year or until the driver turns 18 years old.
Applying for an Instructional Permit
Over 18? Drivers will do the following if they've never held a RI license or their previous one had expired for more than five years. The steps are largely the same minus the driver's education requirement.
Visit the DMV
Take and pass the written test
Submit the LI-1 Form
Submit proofs (ID, residency, SS#)
Pay the $6.50 fee
Complete these steps, and an instruction permit is awarded.
Note: The written exam tests one's knowledge of road signs and rules. Drivers can reference their state driving manual else use online practice tests to improve their passing chances.
Driving Restrictions and Behind-the-Wheel Requirements
When holding a permit – drivers have these restrictions:
Must drive with a licensed driver over 21 years old having a license for five or more years
Respect all driving laws and road rules (especially texting and seatbelts!)
During the time of the permit – drivers need to get a behind-the-wheel experience:
50 total hours of driving practice
10 hours of these done at night
The driving practice is logged and signed by a parent or guardian. Later, this is submitted during the provisional application. Do not that any driving penalties can result in the process taking longer!
Upgrading to a Provisional License
The provisional license is virtually the same as the unrestricted license. The main restrictions are from being a younger age when upgrading the permit. To learn about the process, see our Rhode Island Provisional Licensing Guide for the details.