How to Get a Driver's License in Maryland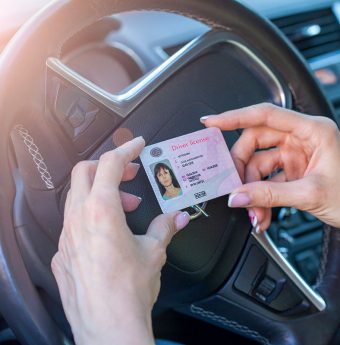 Applying for a Maryland driver's license goes through the Maryland Motor Vehicle Administration. There is no online option when applying, you'll need to visit an MD DMV to complete the process.
The state, like others, use a graduated licensing ("rookie driver") program for first-time and teen drivers. This all begins with a learner's permit eventually becoming a provisional license.
Most individuals getting a license in Maryland will go for the Class C license. This lets you drive a combination of vehicles given they weigh less than 26,001 lbs. Each driver's license is valid for 8 years.
Anyone applying for an unrestricted license will need a provisional license beforehand. The provisional license applies to anyone from out-of-state that hasn't had their license for 18 months or longer.
Licensing Requirements: Provisional License
Your basic requirements to get a provisional license includes:
ID or out-of-state license (plus SSN)
Proof of Maryland residency
Proof of a driver's education course
Payment for the application fee
Vision and driving test results
You will also pass a driving test and submit a skills log & practice guide when rolling a learner's permit into the provisional. You'll use the driver's education program to gain behind-the-wheel experience.
25 and under:
Hold a learner's permit for 9 months
Pass driver's ed
Did driving practice

60 hours of supervised driving (with 10 being nighttime hours)

Maintain a clean record
Pass the driving test
25 and older:
Hold a learner's permit for 45 days
Pass driver's ed
Did driving practice

14 hours of supervised driving (with 3 being nighttime hours)

Maintain a clean record
Pass the driving test
With a provisional license in hand, it's time to make the upgrade to a full-fledged license!
Getting Your Full Maryland Driver's License
You must hold the provisional license for 18 months and be conviction-free during that period. Those under 21 must show alcohol-free on their license and records, too.  Any traffic convictions during this holding period restart the process. So, always do your best to respect and follow MD road rules – especially phone and drinking laws!
The provisional license becomes a full license after 18 months and you meet the basic requirements.
The application fee you paid when getting a learner's permit ($50) or provisional license ($30) covers the full licensing fee. You'll receive an updated card which you'll care with the provisional. Once the provisional expires, you'll return to an MD DMV office to renew your license into the full license.
Congratulations!
Completing all these steps has awarded you an unrestricted driver's license in Maryland. Continue practicing safe driving – else risk a suspended license – and enjoy your time on the road!