Other Registrations in Virginia: Motorcycles, Boats, and More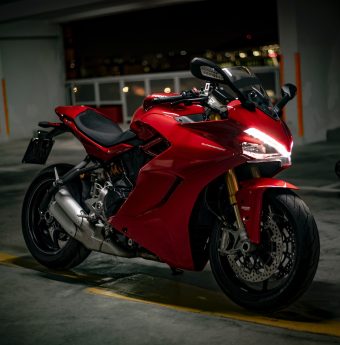 Virginia offers miles and miles of roads, waterways, outdoor paths, and more.
Virginia is a state full of thrilling adventure, having many wanting to get away from the everyday commute to enjoy a fun ride with their motorcycle, off-road vehicle, and other vehicle types.
Most motor-powered vehicles in Virginia require titling and registration. This process is not too different than your typical car registration. Let's look at the differences and steps required to get other types on the road (or lack thereof).
Read along and follow these guides to drive (or boat) in VA legally.
Virginia Motorcycle Registration
Motorcycle registration is a requirement within 300 days of its purchase or lease. You will complete a safety inspection and emissions test if applicable, before registering. You will also need motorcycle insurance or pay a $500 uninsured motorist fee during the process.
Registering a motorcycle in VA includes:
Providing the motorcycle title

Dealer Bought: Manufacturer Certificate
Leasing: Power of Attorney form
Private Sale: Signed Title

Complete a:

Vehicle Registration (VSA 14)
Safety inspection
Emissions test (if applicable)
Private sales: Odometer reading and proof of purchase

Get motorcycle insurance
Pay the $28.75 registration fee

Plus: Sales taxes and use fees
Take these items down to your local VADMV (click to find one). You can register your motorcycle for 1 to 2 years. A dealership will send your documentary and provide a temporary registration at the time of its purchase or lease.
Mopeds
Mopeds are classified as having a smaller than 50CC engine, less than 3-wheels, and its seat doesn't sit higher than 24 inches. You are not required to get a safety/odometer inspection, have insurance, and pay other typical fees when registering. You will need to file a VSA 17A and VSA 31 to register it, along with a bill of sale, title, proof of ID/address, and pay the necessary fees.
Virginia Boat Registration
Virginia boat registration is handled through the Department of Game & Inland Fisheries. Registration is available online, where you can download and print your documents. They're available at the department or by mail, too, upon request.
A Certificate of Title and Certificate of Number is required for any watercraft. All motorboats, regardless of length, need registration. You will also provide a Certificate of Title and pay applicable fees during the registration process. Titling and registration are required for sailboats longer than 18ft, too.
Here's what you'll do online or in person:
Show proof of ownership

Bill of sale or statement of origin
Vessel title or out-of-state registration
Govt-issued documentation

Complete the Application for Watercraft Certificate of Title and Certificate of Number (Registration) (BRT001)
Pay title and registration fees:

Title: $7
Registration: $27 – $45
Plus: 2% watercraft sales tax
You will receive a temporary Certificate of Number or Registration Certificate until the permanent one is signed and received. Else, you may operate the watercraft for up to 30 days with a bill of sale and a valid Certificate of Number until the registration completes. Your registration is valid for three years.
Every boating participant must take a boating safety course and be at least 14 years old and older to operate the water vessel. These courses are available online and in person. Upon completion, boaters can get an education card that lasts a lifetime.
Virginia Off-Road Vehicle Registration
All-terrain vehicles with 3 or more wheels, powered by a motor, and made for off-highway require titling. You will complete the VSA-17A form to title and register the off-road vehicle.
You will also show your proof of title or certificate of manufacturer's origin, provide a bill of sale and proof of address, and pay the $15 titling fee. Use taxes apply.
Once titled, you can select to have your title registered electronically or get a paper title. Titling all-terrain vehicles is available online and in person at your local DMV.
Conclusion
By taking the time to complete the necessary steps for Virginia boaters and off-road vehicle owners, you can get education cards and register your vehicles in a safe and responsible manner. With DMV Connect, you have all of the resources available to you when it comes to completing these requirements. Visit us today online or in person at your local DMV to start the process. Thank