Massachusetts License Renewal: A Step-by-Step Guide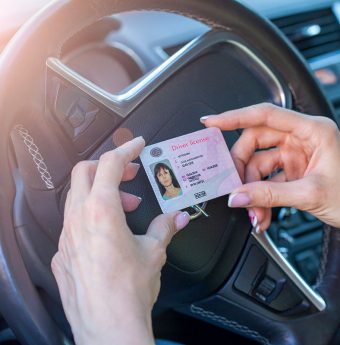 The Massachusetts Division of Transportation and Registry of Motor Vehicles will send a notice to renew your MA license before its expiration. Your license expires on your birthday so keep this date in mind so you're ready to renew or else face the consequences like an expired or suspended license.
You have up to 1 year before and after its expiration to renew your license. Renewing your license makes it valid for another five years. You'll receive a temporary license for 30 days while the permanent one gets processed.
You can renew a Massachusetts license via:
This guide helps you understand the MA driver's license renewal steps. Keep reading to understand which documents you'll file and the fees you'll pay throughout each process.
How to Renew Your MA Driver's License
Renewals are available to all those with valid driver's licenses. You cannot renew if your license is suspended or revoked or you have unpaid taxes, tickets, child support, and traffic violations. You will need to apply for an MA license if you allow your license to lapse beyond the 1-year renewal period.
Let's go through the different ways you can get your license valid for another five years.
In-person Renewal
Consider making a Massachusetts driver's license renewal appointment with your local MA RMV to make the process quick and easy. Then, do the following when there:
Provide your documents:

Proof of Citizenship
Proof of MA residency
Proof of Social Security Number

File the Driver's License, Learner's Permit, or ID Card Application (LIC100)
Pass a vision screening
Get your photo taken if:

The photo is older than 14 years
The photo was taken before you turned 21

Pay the $50 Class D renewal fee
Your license will arrive by mail in about a week. Congratulations! You've successfully renewed your MA license by visiting one of the many RMV locations.
About the Vision Test
Vision screening tests are required and done on location. Those wearing corrective lenses will need to have them at the time of the vision test. Those 75 years old and older can submit a signed Class D and M Vision Screening Certificate (MAB102).
Online Renewal
Can you renew your MA license online? Yes, if eligible. You can choose to complete the action online or print documents and visit an MA RMV location with the provided barcode and all documents. Several restrictions to renewing online include not having residency, being 75 or older, previously renewed online, and other factors you can learn by calling your local office.
Note: You may only renew once every 15 years and will need to submit an updated picture if it's older than 14 years or was taken before you turned 21.
You will do the following:
Visit the MA DOT site
Provide your information

Full name
Social Security Number
Date of Birth
License Information
Email

Pay the renewal fee
You should receive your renewed license within a week. If you cannot complete the process, print your documents and bring them to your nearest DMV location.
A Note about Expired Licenses
You're wondering, "Can I drive with an expired MA license?". That's a definitive no.
You will likely receive a hefty fine or face jail time! You'll also likely have your license suspended or revoked, causing the long, drawn-out process of renewing a suspended MA license.
Simply put: Don't drive without your license!
Find a Massachusetts License Office
Need answers to your questions about renewing your MA license? Or, want to do the renewal process in person? Use our MA DMV Directory to find the nearest licensing office near you!