Louisiana Learner's Permit: A First-Time Teen Driver Guide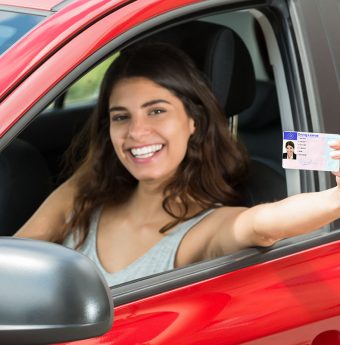 First-time drivers beginning at age 15 and having taken a driver's education course may apply for their learner's permit. Doing so places the first-time driver on the path to an unrestricted license through the state's graduated licensing program.
The GDL program is operated through the Louisiana Office of Motor Vehicles (OMV) to give drivers an understanding of road rules and behind-the-wheel driving experience.
What Age Can You Get a Permit in Louisiana?
Anyone who is 14 years old or older can obtain a Temporary Instructional Permit. Once they finish their driver's education, they must surrender their TIP to the OMV along with proof of completing the course and any other required documents.
The GDL process includes:
Learner's Permit
Provisional License
Unrestricted License
Before going to the DMV, you'll want to collect:
Proof of identification
Proof of residency
Payment method
You will visit an LA DMV throughout each of these applications.  The OMV will process your application, administer tests, and collect payment.
Once you have a learner's permit, you can begin by practicing supervised driving. You must log at least 50 hours of driving time, with 10 of those hours completed at night as part of your training program to receive a provisional license. After holding the provisional license for 18 months and achieving a clean driving record, you may be eligible for an unrestricted license.
When applying for the learner's permit, you must pass a vision test and a written road rules and signs exam. The written test consists of 25 multiple-choice questions, and you must answer at least 20 correctly to move forward with the licensing process.
Important: Every resident applying for a permit, provisional, or license must either complete a driver's education course or a pre-licensing course.
Related Read: How Long Does it Take to Learn How to Drive?
Applying for a Louisiana Learner's Permit
Here's what you would do:
Go to your nearest LA DMV office
Provide proof of identification
Show proof of a completed driver's ed course
Submit a school attendance certificate
Complete the permit application

Parent/guardian (with ID) will sign

Pay the $32.25 application and $6 local fees
Get your vision checked
Pass your written test

Score 80% or higher (40 multiple-choice questions)
The multiple-choice knowledge test measures your ability to identify road signs and traffic rules. You can practice this test either through the state's driving manual or online practice tests. Your driver's education program will also cover these items.
Congratulations! You now have a learner's permit.
You must log 50 hours of behind-the-wheel experience (15 at night). You are to be supervised by an adult (21+) or sibling (18+) whenever driving with your learner's permit.
Related Read: Aggressive Drivers: A Guide on Handling Road Rage?
Upgrading to a Provisional License
The next stage of the state's graduated licensing program will have you upgrading your permit to an intermediate license. Get 50 hours of driving experience (logged), then follow our Louisiana Provisional License Guide when ready.
Conclusion:
You are now on the way to driving independently in Louisiana! Keep studying the driver's manual, practicing safely, and following all the rules. With enough practice and dedication, you'll soon be ready for your license test!
Good luck!
Related Articles